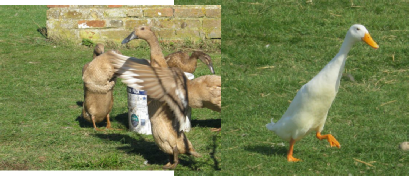 All pictures are of MY birds and subject to copyright!
Website always under construction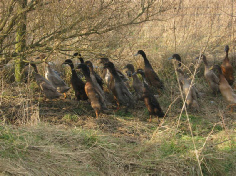 Bellow are Gallery's of my top quality Runner Ducks and Ducklings!!
I have a flock of 24 Pure breed mixed coloured Indian Runners. The flock contains many lovely colours such as Fawn, Grey/Lavender, Chocolate, White, Black, Salmon and Apricot. We have 8 hens to 4 drakes which means our eggs fertility is extremely high. Or flock is truly free range and have excess to a pond all day long. I have managed to build this flock up over the years to try and create a perfect mixed colour flock which will produce pure coloured and mixed offspring.
Runner ducks are well known for their unique walking style. Indian runners are one of only a handful ducks that stand upright. All my ducks are pure and lay white to blue coloured eggs that is normal for Indian runner ducks. Eggs productions out of these ducks are brilliant, they lay approximately 280 eggs a year.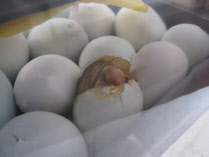 I sell hatching eggs, ducklings and adult ducks. These are subject to availability so keep an eye on my "For Sale" page to get your top QUALITY RUNNERS!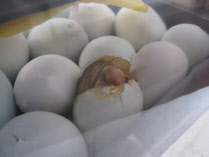 The ducklings you can hatch are truly unique you can get pure colours such as grey, black, blue, chocolate and fawn! If don't get a pure coloured runner you are going to get a very unique duck. The ducklings I hatched last year I raised many pure colours had some amazing colouring which I have never seen before!
These ducks are ideal for back gardens and will mow the lawn for you! Depends how much space you have in your back garden to how many ducks you can keep. An average back garden will be plenty of space for 3 plus ducks. You don't need a pond, they happy with just a bowl of water which makes them perfect for BACK GARDEN KEEPERS!