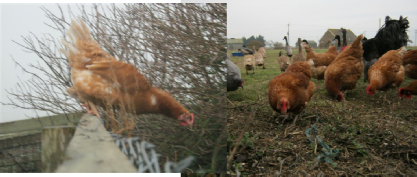 All pictures are of MY birds and subject to copyright!
Website always under construction


Welcome to my egg layer page. This page is to show you the range and quality of my hybrid layers. I have 8 hens running with a lovely Lohman Brown cockerel. The hens are a mixture of Lohman browns, Welsummers, hybrid Orpingtons and hansome silkie cross cockerel. The flock produces very healthy good looking laying girls. In the hens first year of laying you can expect at least 300 eggs. I will be hatching these during the season so contact me for details. The hens are feed on top quality food which I provide all my birds here at dmpoultry! They are 100% free range and lived/wormed regularly. I will have very limited eggs during the season as my family have got the taste for the eggs and will pinch them when I am not looking! If your lucky you will get a hen that will lay you a regular double yolker! They are extremely easy to sex when they grow up. You will able to tell within 6 weeks which are boys and who are the girls. You can do this by behaviour and the size of the birds and the comb.
To the right they are pictures in the gallery are of my birds in my breeding flock and birds I have hatched out of this flock. You will get a variety of colours and all guaranteed to be great layers!
I will sell hatching eggs and adult POL birds from this flock.. These are subject to availability so keep an eye on my "For Sale" page to get your top Chooks!