Hi and welcome to my website. I have bred chickens and ducks for last 4 years the hard way by building my own incubator and learning the ins and outs of incubation. My passion has kept on growing for poultry and over the years have become a small breeder trying to introduce new people to the amazing animals. As I only do this for a hobby all my birds are spoilt rotten with attention and treats. I personally don't agree with keeping my birds in small breeding pens for the breeding season and are let out every alternate week around my 2 acre field in the beautiful Romney Marsh.
2011 was a good year for DM Poultry. I managed to expand our range of breeds got 5 in total. I managed to go to the National poultry show last year. The standard of birds was exceptional! 2012 had its up and downs. Late fox attack in November knocked back my plans eating key breeding birds. Luckily I managed to find replacements and 2013 looks very prosperous. Managed to source some new breeds and hopefully will be breeding from them later in the year!
Above is pictures of what I do best! Bringing quality, healthy chick's/ducklings into the world for Beginners and Experts ALIKE!
All pictures are of our own birds and subject to copyright!
Website always under construction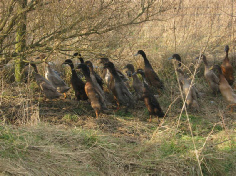 <script async src="//pagead2.goo glesyndication.com /pagead/js/adsbyg oogle.js"></scrip t>
<!-- Dmpoultry -->
<ins class="adsbygoogl e"
style="display:i nline-block;width:320px; height:100px"
data-ad-client="ca-pub-575864735621422 7"
data-ad-slot="3990657390" ></ins>
<script>
(adsbygoogle = window.adsbygoog le || []).push({});
</script>